January 17, 2008
Launch Day, June 16, 2007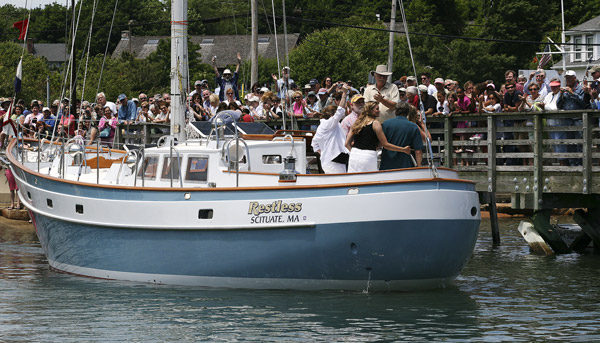 This picture says it all. After 28 years, the moment the old girl was actually in her element, floating free of the launch trailer for the first time, was priceless, and it went a long way towards making it all seem worthwhile. Horns were blaring, people screaming, cannons going off, and 200 kazoos going wild... It was quite a time. I always knew it would come, but after spending that much time in the process, I can't blame others for doubting it. It's been said that the closest man can come to creating a living thing is to build a boat, and we were very thankful that so many people showed up to help bring her to life.
About 3 weeks before launch, Tony Chamberlain did an article in the Boston Globe (see here) on the boat, and I got a phone call from a guy who wanted to stop by and see it. With 3 weeks to go and a list that wouldn't quit, I was a little reluctant to take the time... I was so far behind the 8 ball that I couldn't even see the table. As I was stalling, trying to figure out a way to politely say no, he added that he had spent 15 years building a 44' boat, and I realized that I had to let him come by. So he and his wife arrived late that morning, and they were a great couple with a twinkle in their eyes who looked like they'd been together for at least 40 years, maybe more. He looked around some, told me a little about their boat, and then said, "Well, good luck on launch day, it was the best day of my life". I was a little taken aback by this, thinking "Best day of my life? What about wedding, birth of kids, etc.?" But I looked at her and she was nodding and smiling in total agreement.
Turns out they were right... if not the best day of our lives, then certainly right up there in the top 5. It was a beautiful clear warm New England mid-June day, somewhere between 4 and 500 people showed up, some from around the country, and everyone was smiling and up beat. We had a band and a keg and lots of food, and must have had 300 people through the boat after we got to the dock... the receiving line took over 2 hours. The story just seemed to touch a lot of people, and for us it was an amazing day. I hadn't expected it to be such a big and moving event (I hadn't really had much time to think about it) and was pleased and touched by the out pouring of support from everyone involved. Thanks to all who were there, and all who sent positive thoughts.
October 9, 2007
So I seem to have finally figured out how to upload stuff to the site, and the first thing I have to do is thank our daughter, Haley, for setting it up. Over the course of the project I had taken about 35 rolls of 35mm film at various stages, and others had given me some photos, but none of it was even in albums. Haley, being the real photographer in the family, took it upon herself to organize them into some semblance of order, and in the process we cut what was probably 1200 pictures down to about 350, and she organized those chronologically in an album. We lived with that for a while, and then cut those down to about 150, and she took them out to Stanford where she had access to a large scanner and scanned them all. Then I bought a copy of dreamweaver for her mac laptop, she bought a couple of books on dreamweaver, and sat down and did this site . Her sister Brooke said "I can't believe Haley just read a couple of books and then put a web site together", and neither can I. It was not without some problems, especially because she was doing about 10 other major projects at the same time, but she pulled it off, for which I am very grateful. I had wanted to get this done for a long time, and Haley knew that it was a great way for her to contribute to the project, even from afar, so she just went ahead and did it, and I want her to know how much I appreciate it. Thanks Hale. Daughter Brooke, too, was very helpful on the project, especially in the weeks leading up to launch. She got out of school 2 weeks before launch day, and worked tirelessly cleaning, washing, sanding and varnishing. She ran q-tips down every strake in the overhead. We are extremely proud of both our kids and all they have already accomplished, and I want to thank both of them here for all they put into the boat, both over all the years of their lives, and especially leading up to launch.
Thanks, Haley and Brooke... xox